Torres Strait Islanders Media Association Inc. Board Members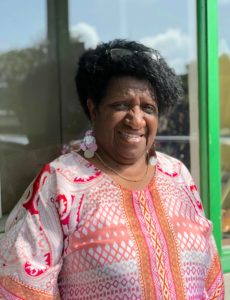 Margaret Cowley – President
Mrs. Margaret Cowley is originally from Erub (Darnley) Island in the Eastern Cluster of Torres Strait. Her father was the leading Carpenter at the Department of Aboriginal Affairs and in 1960, his employment relocated Margaret and her family to Bamaga in Cape York.
Margaret was raised in Bamaga and was one of the first students to complete year 10. When she graduated, Margaret was passionate about serving her community and started working in the local Council and in various community organisations.
Margaret holds a Bachelor of Teaching through the University of Technology, Sydney. With support from Bibi Ellie Gaffney, Margaret founded the first Indigenous Women's Organisation; Adai Yoepkazil established in the Northern Peninsula Area (NPA). Bibi Ellie was also the founder of Mura Koskir and the Torres Strait Islanders Media Association radio station; 4MW Meriba Wakai.
Margaret was appointed to the TSIMA Board of Directors in the early 90's where she represented the NPA region. In 2009, she was elected as the President of the Board, a role she held for a couple of years before stepping down. She was recently reappointed to the role of President.
Margaret's goal is to see TSIMA prosper into a thriving media organisation where Torres Strait people are producing their own content and recording their own music proudly. She wants TSIMA to sit amongst the top Indigenous radio stations in the country and to deliver Torres Strait cultural and language programs for younger generations to enjoy.
Ella Kris – Vice President
 Ivy Wapau – Secretary
Mrs. Ivy Wapau is originally from Saibai Island in the Top Western Cluster of Torres Strait, but she relocated to Thursday Island in 1975. Ivy was one of the first Broadcasters at TSIMA in the mid 80's and was one of the first to broadcast in her traditional language of Kala Kawau Ya. This dialect is spoken in the Top Western Cluster across Saibai, Dauan and Boigu Islands.
Ivy was elected onto the TSIMA Board of Directors in 2016 as the Secretary. Her passion is to promote the Torres Strait languages and culture through media. She wishes to see TSIMA flourish into the national and international media agency it is destined to be.
Gladys Nawia – Board Member Representative (Near Western Islands of Torres Strait)
Mrs. Gladys Nawia is originally from Badu Island in the near Western Islands Cluster of Torres Strait.
Gladys' career started in 1979 when she volunteered for a nursing position at Kubin Medical Aid Post (MAP) where she met her husband (the late Morris Nawia).
In 1994, Gladys was appointed as the Community Police Officer and Back Up Movement Monitoring Officer for Department of Immigration. She was also the Community Representative Indigenous Women's Conferences until 2001
Mr Nawia passed away in 1998, the same year that Gladys was elected onto the Board of Directors of the Torres Strait Islanders Media Association. Today, Gladys lives on Badu Island and remains the Near Western Cluster representative. Her passion to support and promote traditional languages and Torres Strait culture and to see TSIMA prosper continues to drive her commitment to the organisation.
Frank Fauid – Board Member Representative (Central Islands of Torres Strait)
Mr. Frank Fauid was born on Poruma Island, in the Central Islands Cluster of Torres Strait. Frank is interested in media and is passionate about helping TSIMA reach a national and international audience.
More importantly, Frank wants to ensure that the RIBS stations on each island is in full operation and broadcasts on a daily basis. He sees media as a way to preserve and promote the Torres Strait culture, tradition and lifestyle.
Jimmy Gela – Board Member Representative (Eastern Islands of Torres Strait)
Mr. Jimmy Gela has bloodlines to Erub (Darnley) Island but was born and raised on Thursday Island where his father worked at the Waiben (Thursday) Island Hospital before moving across to the General Hospital.
Jimmy worked on the Railways after finishing High School in 1974. He lived on the both the mainland and Erub Island, before relocating to Erub Island in 2000. Jimmy was elected as the Councillor for Erub at the Island Council elections in 2004 and the Councillor for Erub at the TSIRC election in 2012. He held office as the Erub PBC chair and continues to hold that position today.
Jimmy was elected onto the TSIMA Board in 2017 and he hopes to work with the Board Members and staff to strengthen the organisation. His knowledge and expertise of working in other Corporations and Association will be invaluable to TSIMA. He wishes to develop TSIMA into a reputable brand both within the Torres Strait region and nationally.
He wants to establish the Torres Strait language, culture and traditional lifestyles to the wider Australian communities. Jimmy speaks Creole predominately, but also understands Meriam Mir.